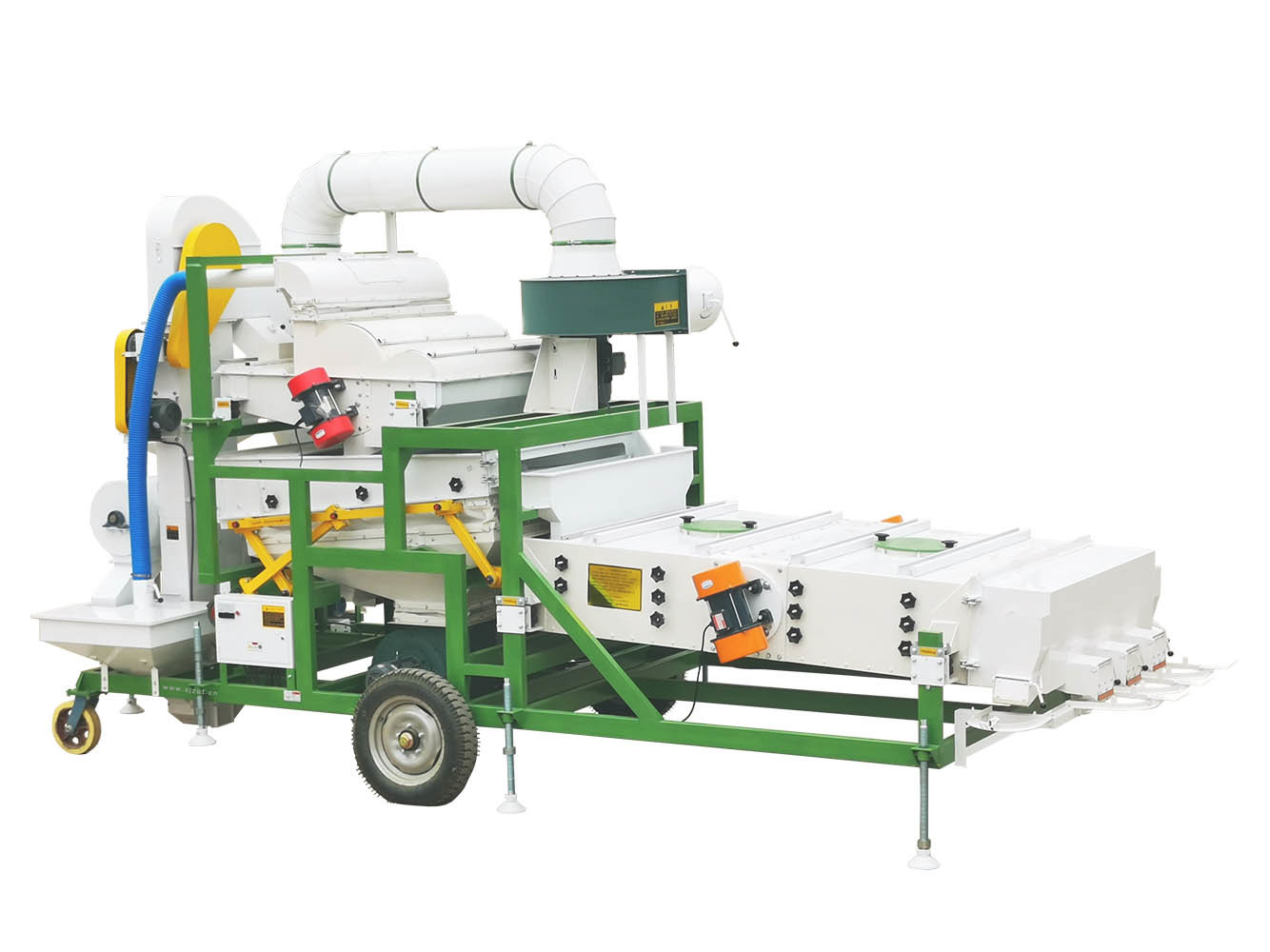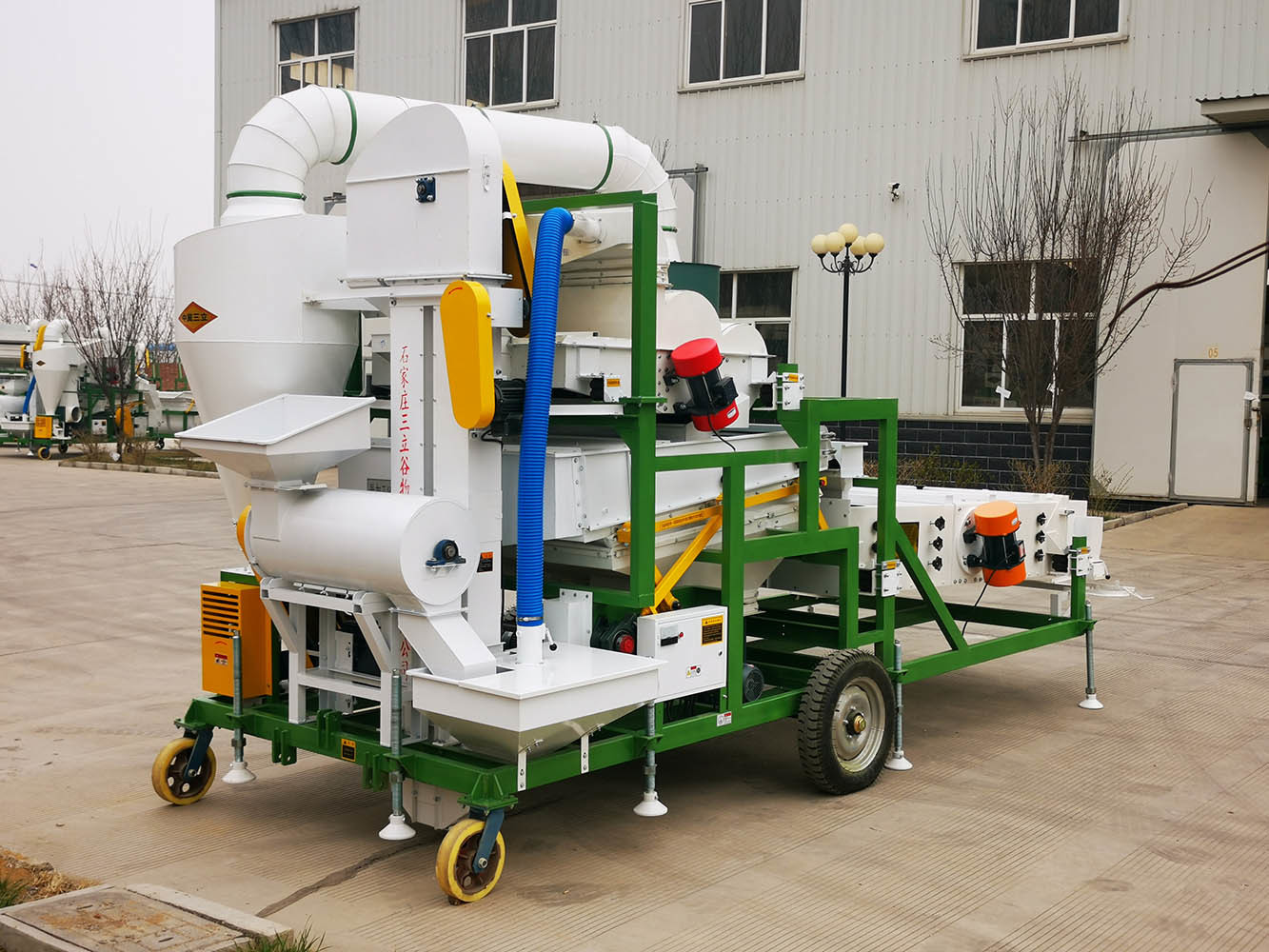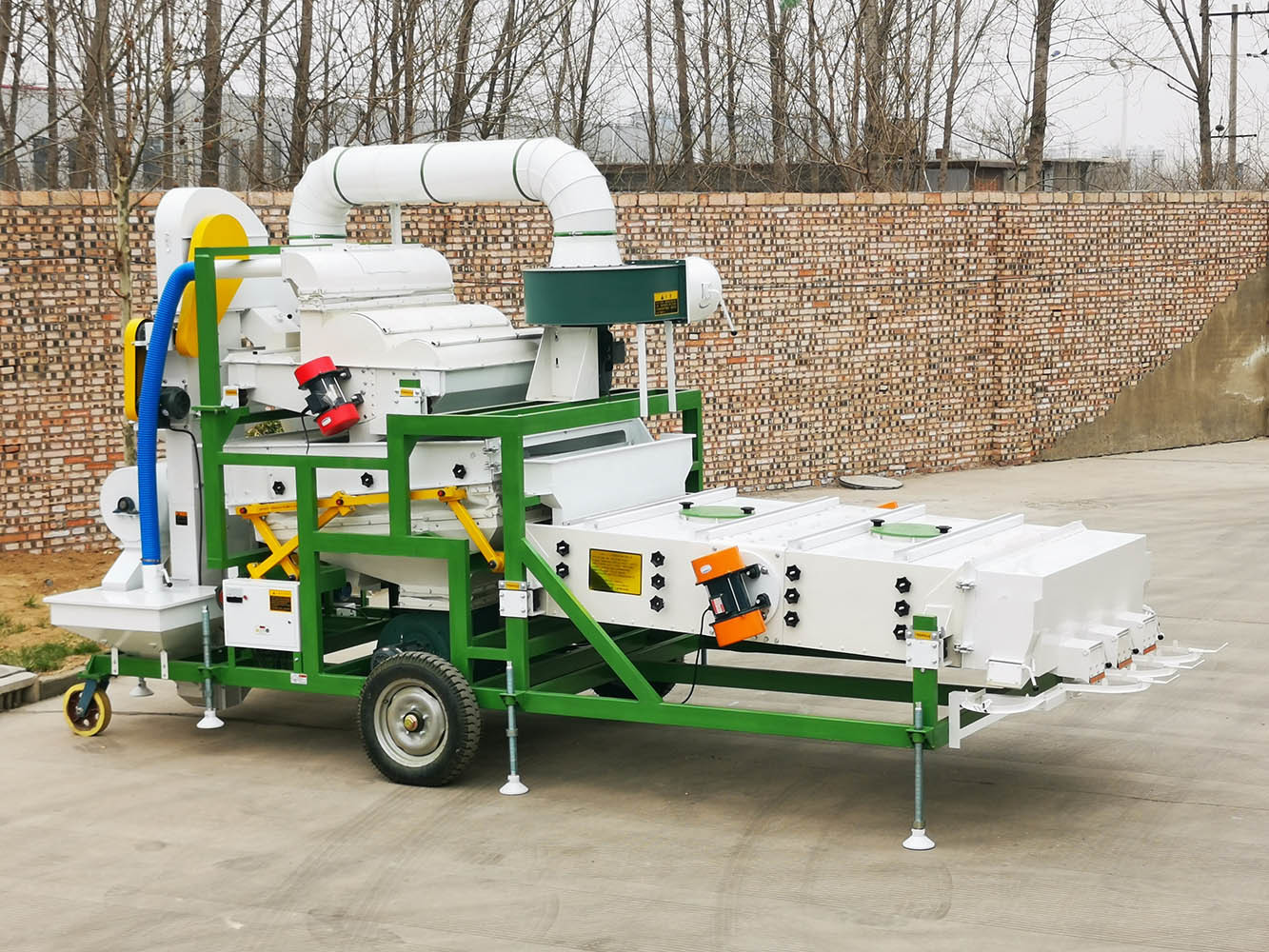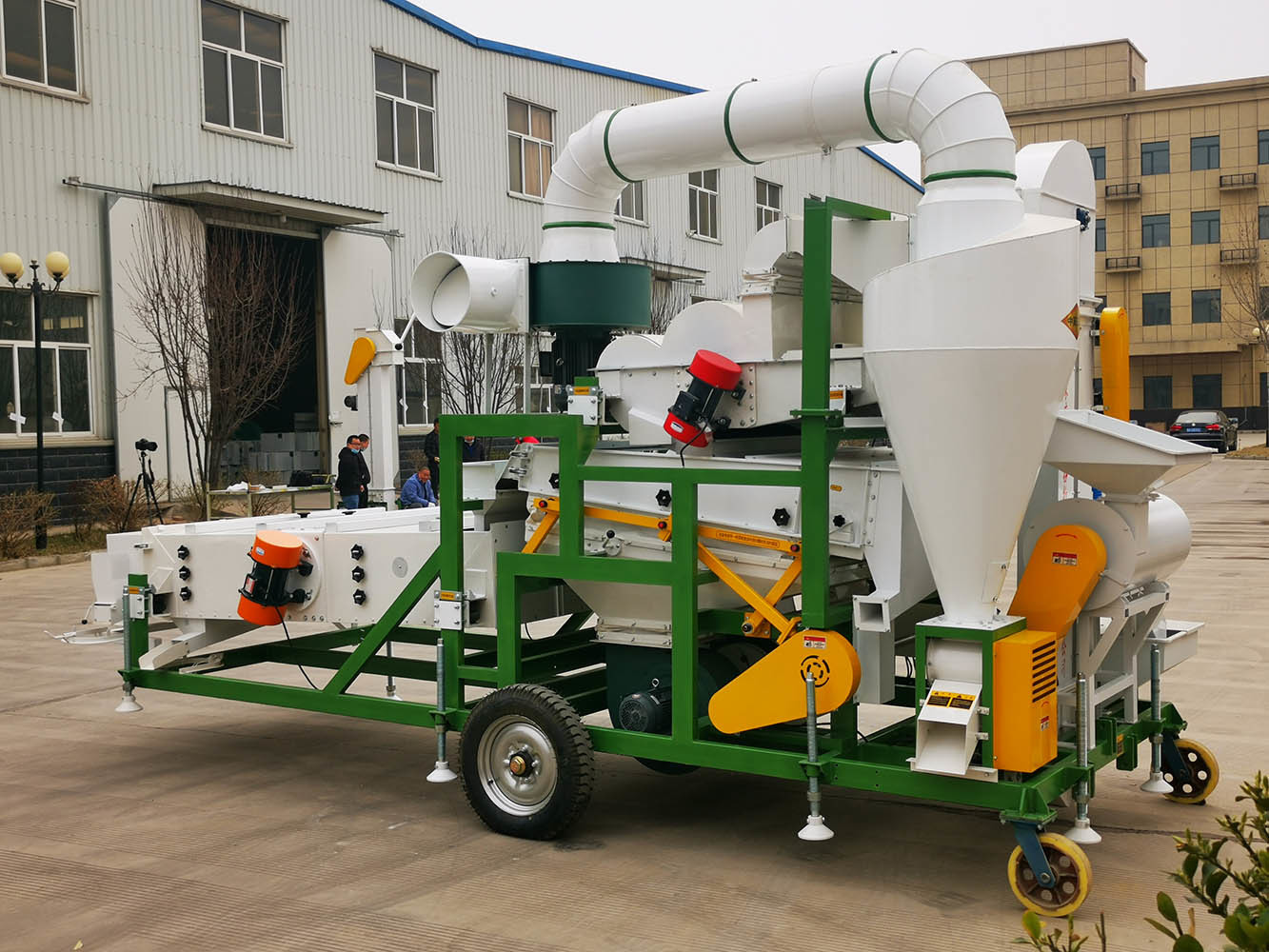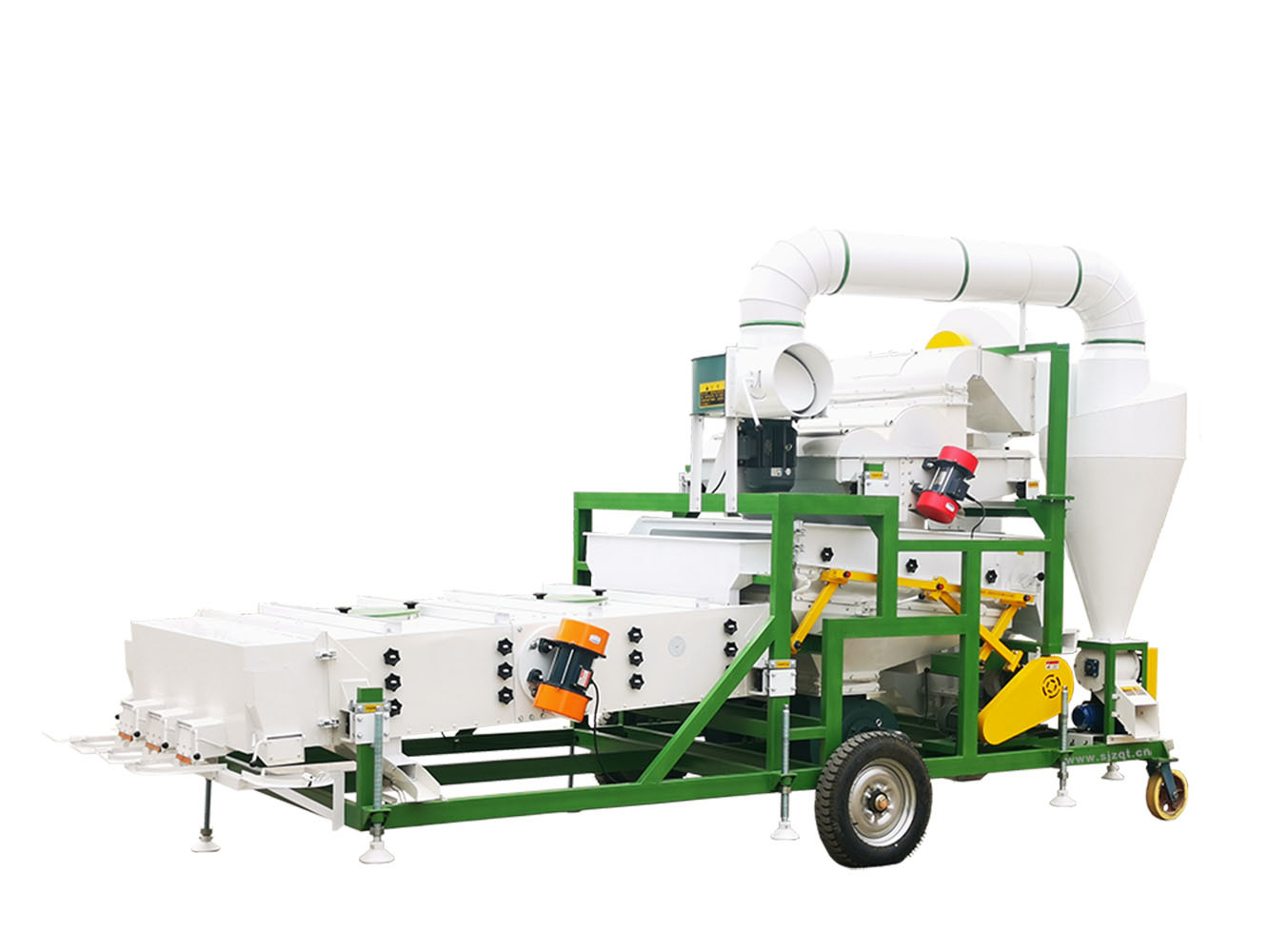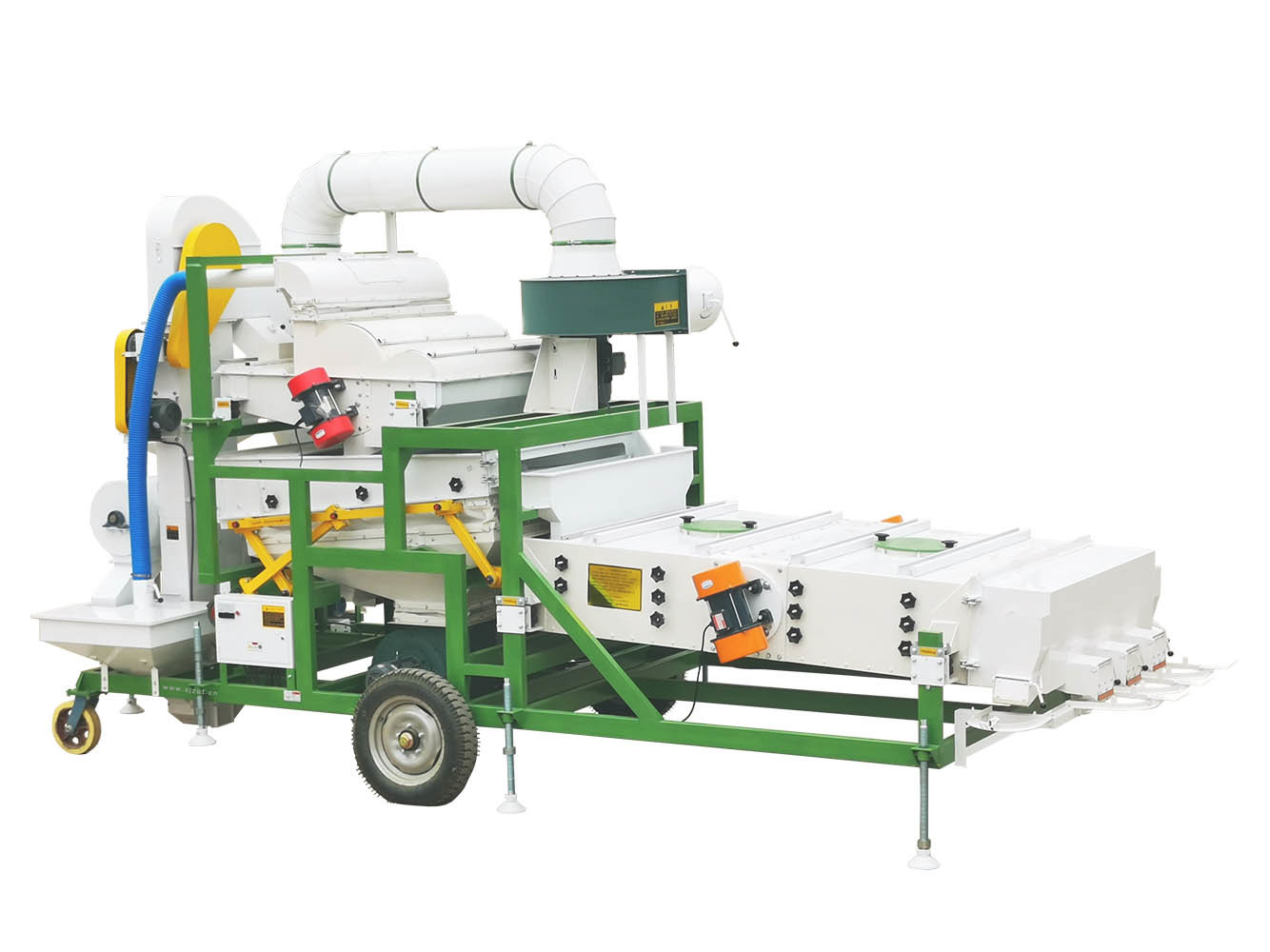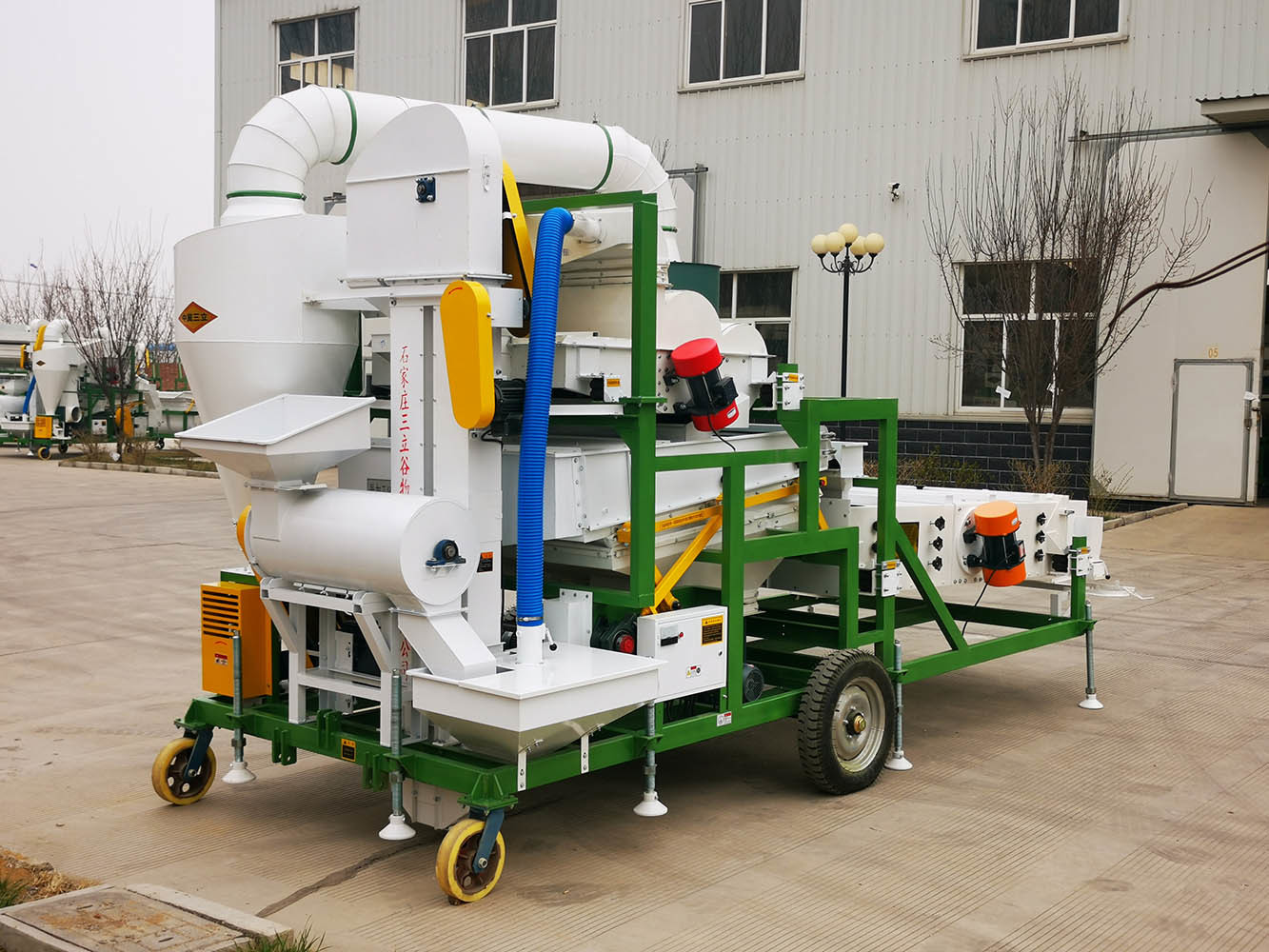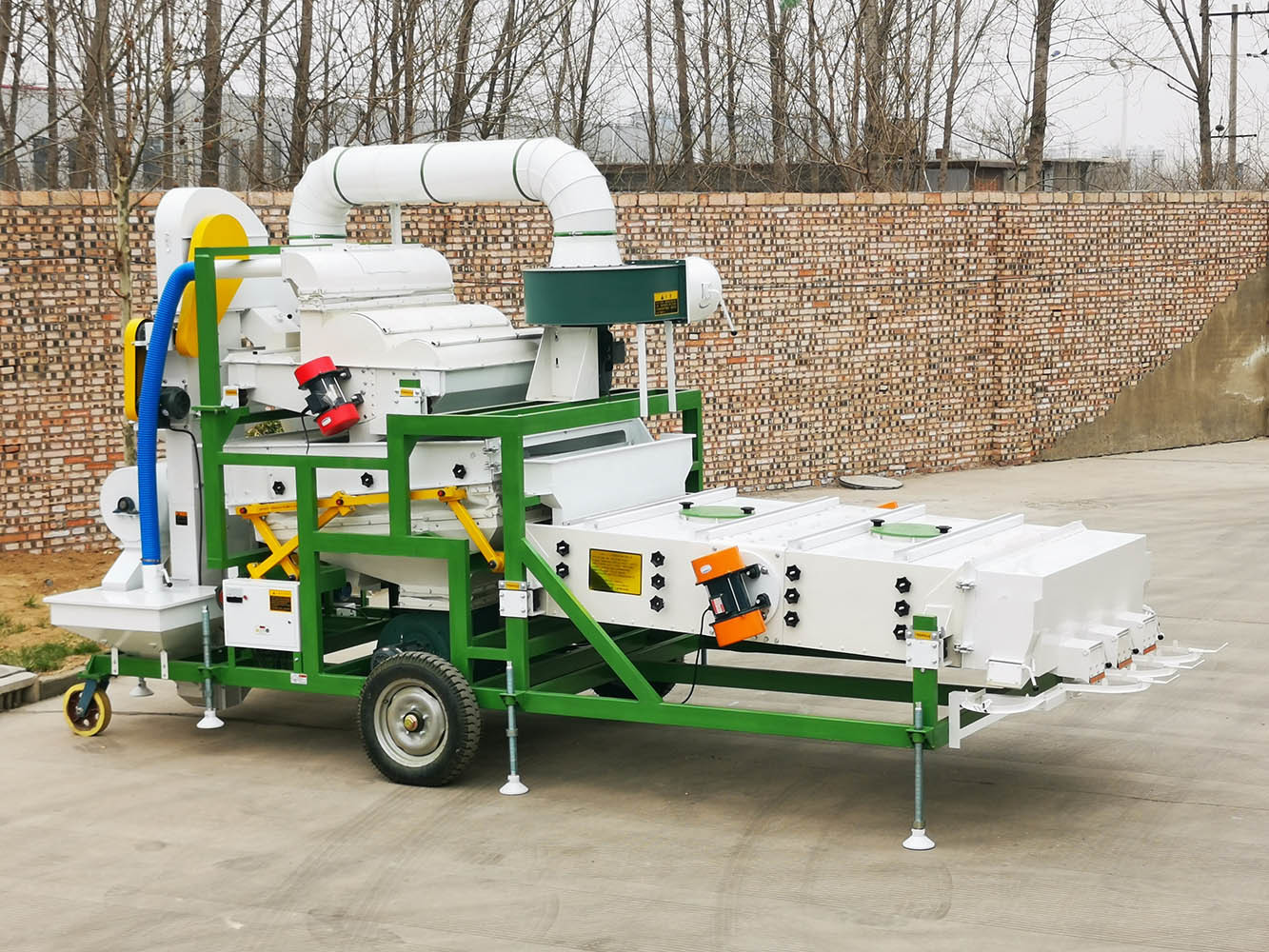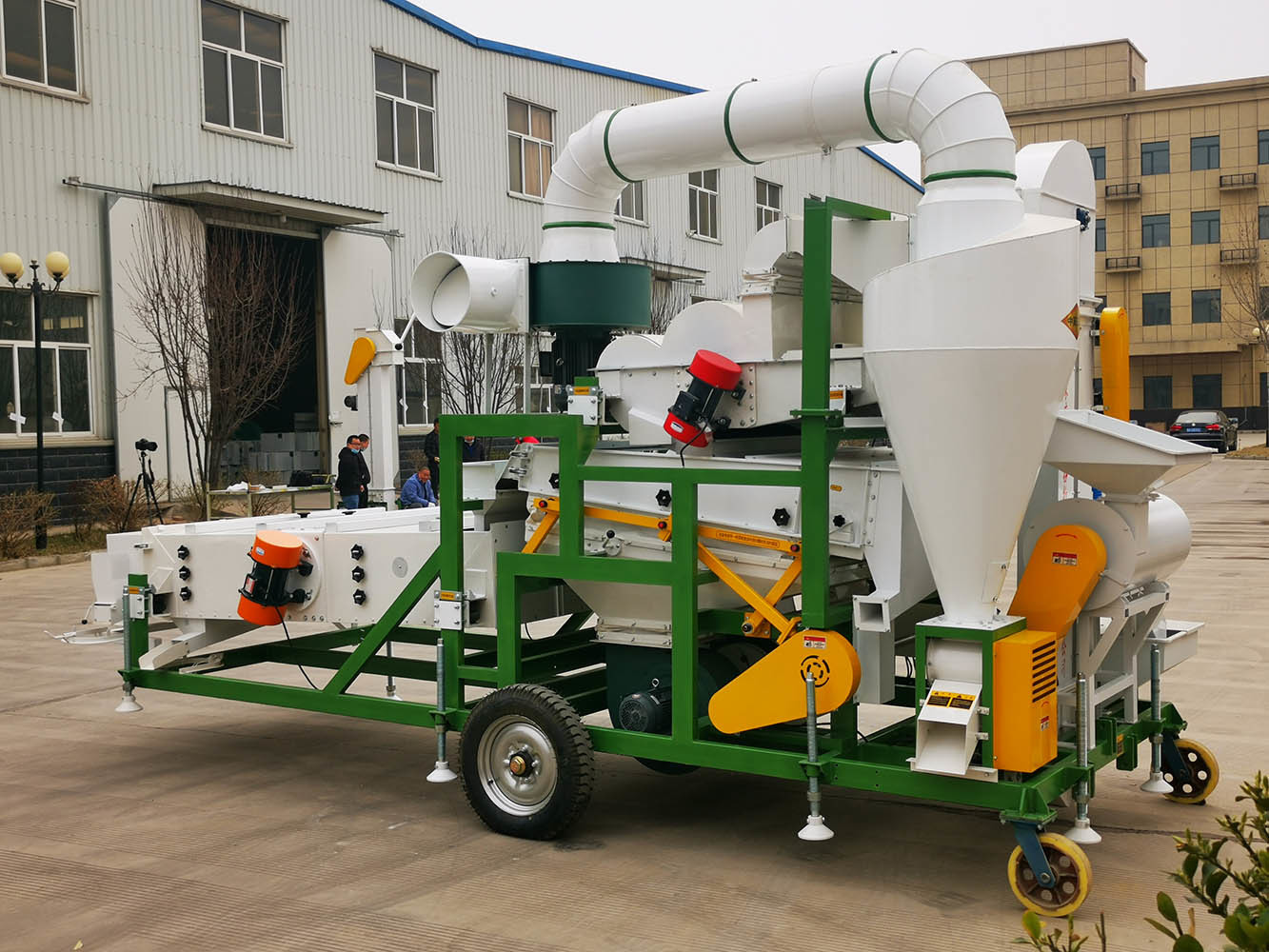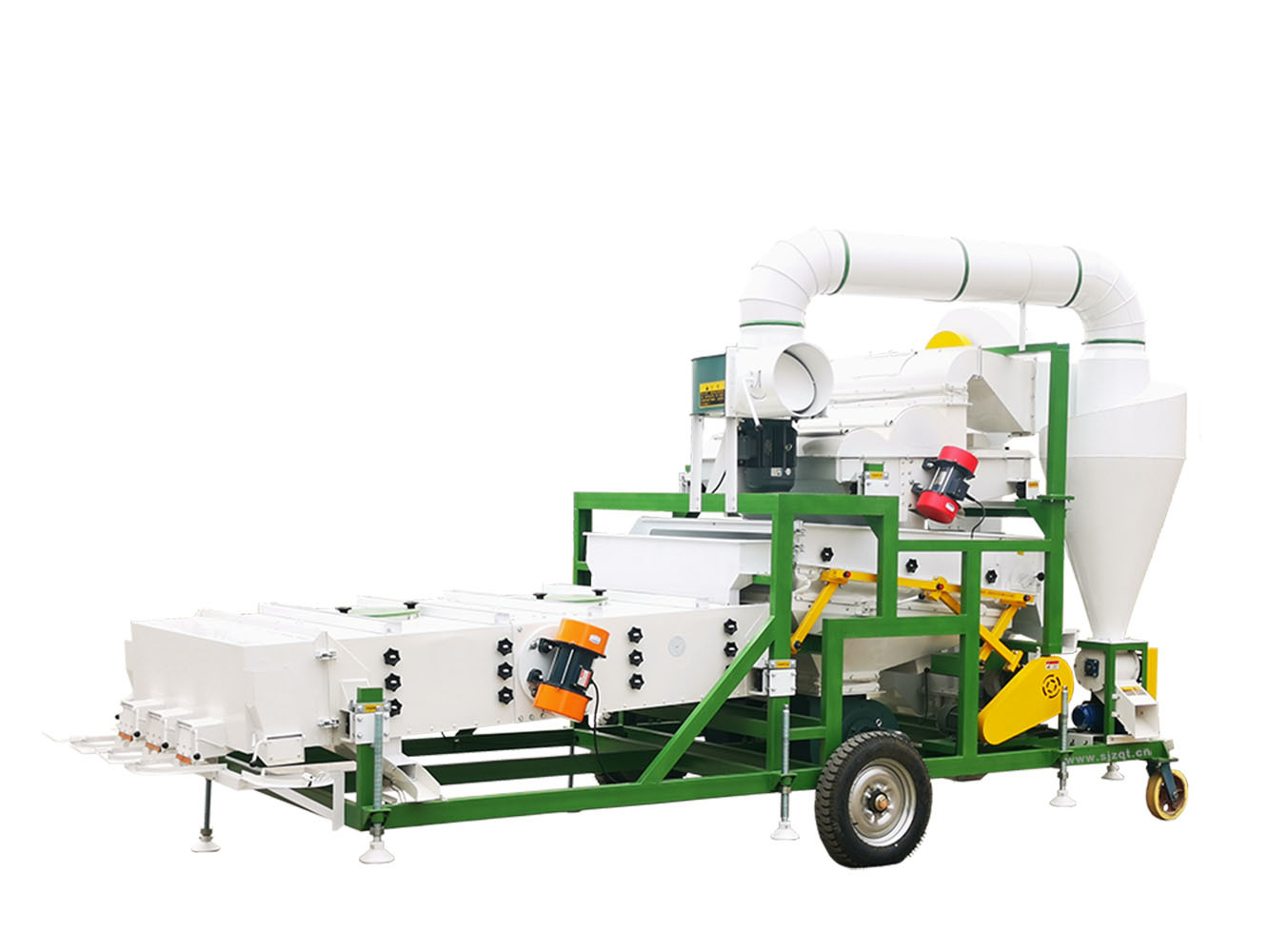 5XFZ-10C1 Wheat Seed Combination Cleaner
---
Max-capacity: 10t/h (Base on wheat seed) Wheat huller+ Horizontal air aspiration+ Gravity table+ Vibration screener
Wheat Seed Combination Cleaner
Wheat seed sorter
Wheat seed separator
Barley oats seed cleaner
buckwheat cleaning machine

5XFZ-10C1 Wheat Seed Combination Cleaner
---
5XFZ-10C1 Wheat Seed Combination Cleaner
After hulled the wheat seed, it will be transported to the air screen by the bucket elevator to remove the dust, chaff and other light impurities in the grain. The light impurities are settled by the air duct and the cyclone dust collector, and then discharged by the air closers, Then, the grain flows into the gravity table to remove other impurities with light bulk density, such as chaff grains, bud grains, moth eaten grains, moldy grains, etc. After air separation and gravity separation, the grain finally enters the vibrating screen, and through the sieve with customized hole size, the larger and smaller size impurities are removed.
Main features:
Complete functions: it integrates the functions of wheat huller, air separation, gravity selection and screening (grading), with high purity of finished products.

Horizontal air suction screen: secondary suspension sedimentation separation, strong ability to remove light impurities, with high selection rate.

Air source of gravity table: double fan design, uniform air volume of table, convenient adjustment.

Large production rate: fast processing speed, short cycle, high efficiency.

Green environmental protection: equipped with cyclone dust removal system, it can discharge dust and light impurities after sedimentation, without pollution.
Scope of application
The machine is suitable for processing various crops and all granular materials. Especially for wheat, sorghum seed, the effect is better
Technical specification
Model

5XFZ-10C1

Capacity

Wheat seed

5000-8500 Kg/h

Sesame seed

1500-3000 Kg/h

Size(L×W×H)

6000×2350×3560 mm

Sieve size(L×W×Layers)

2400×1500mm×3 layers

Size of gravity table

2200×1600 mm

Selecting rate

≥ 97%

Broken rate

≤ 0.2%

Total power

23.7 kW

Weight

3500 Kg
Note: The capacities may vary depending on seed condition, moisture content, seed varieties, types and volumes of contaminants to be separated and percentage of foreign material acceptable in the final product.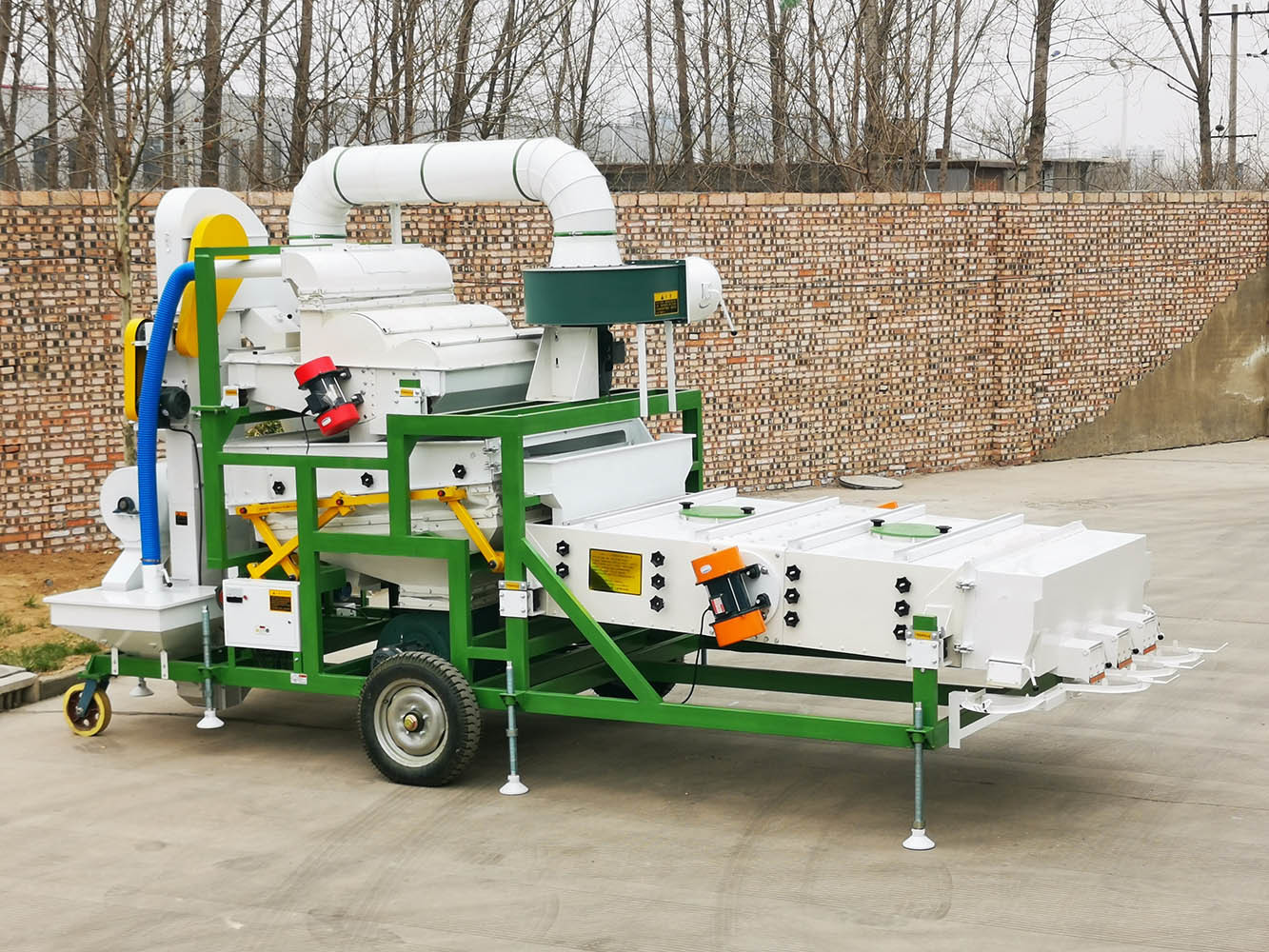 MOBILE SITE

Sanli Grain Sorting Machinery
---
Copyright © 2022 Sanli Grain Sorting Machinery Co, Ltd.