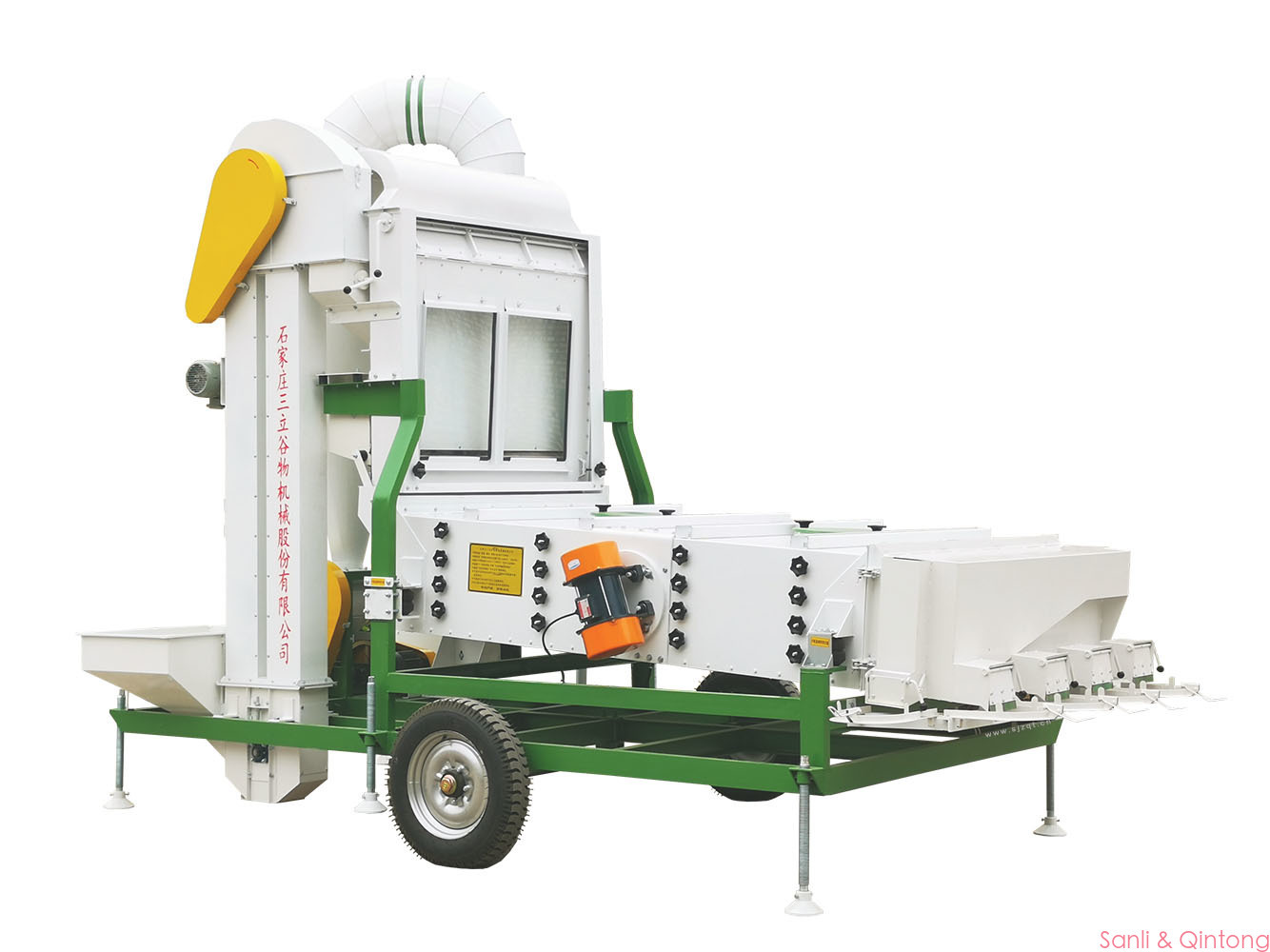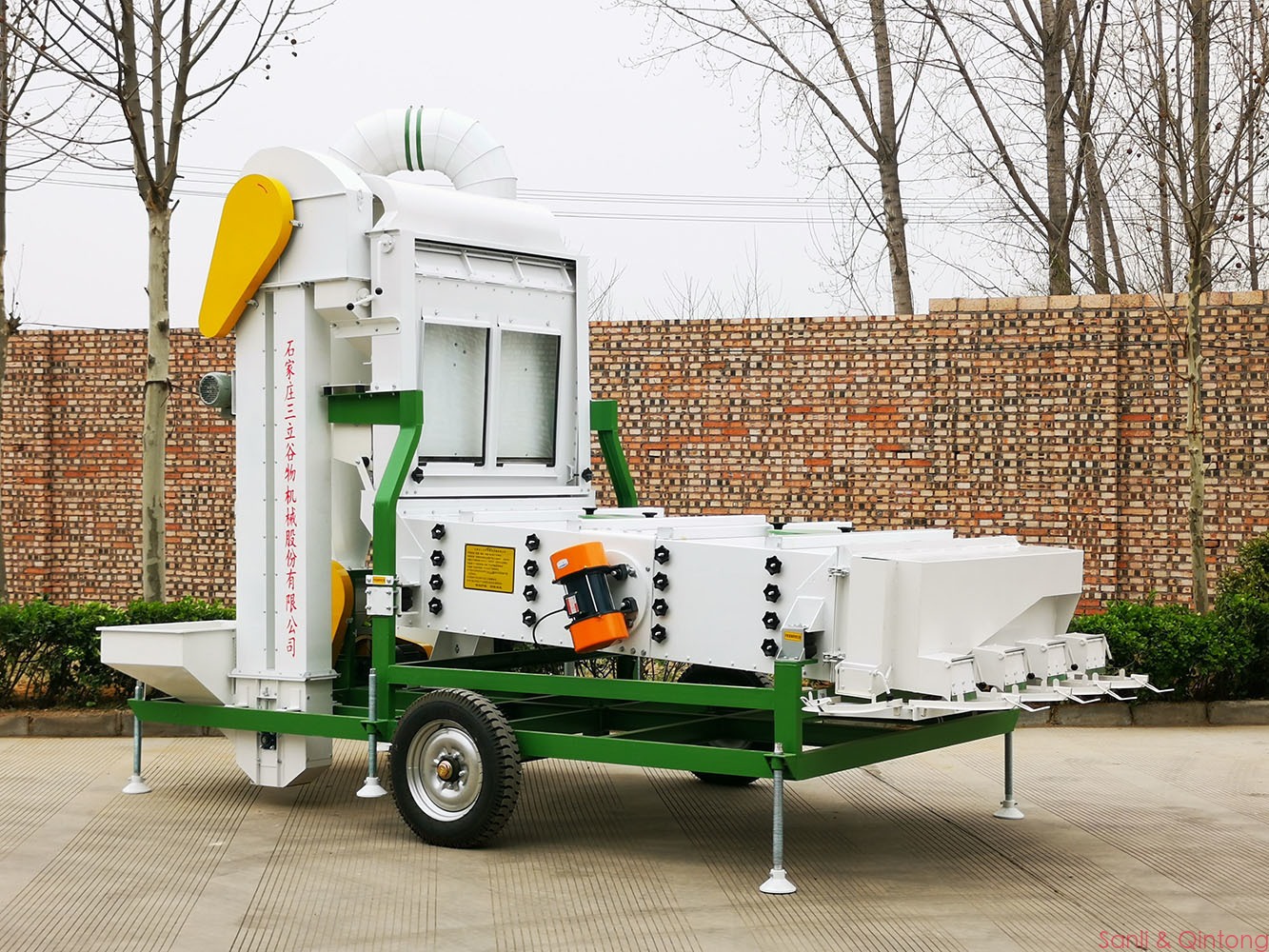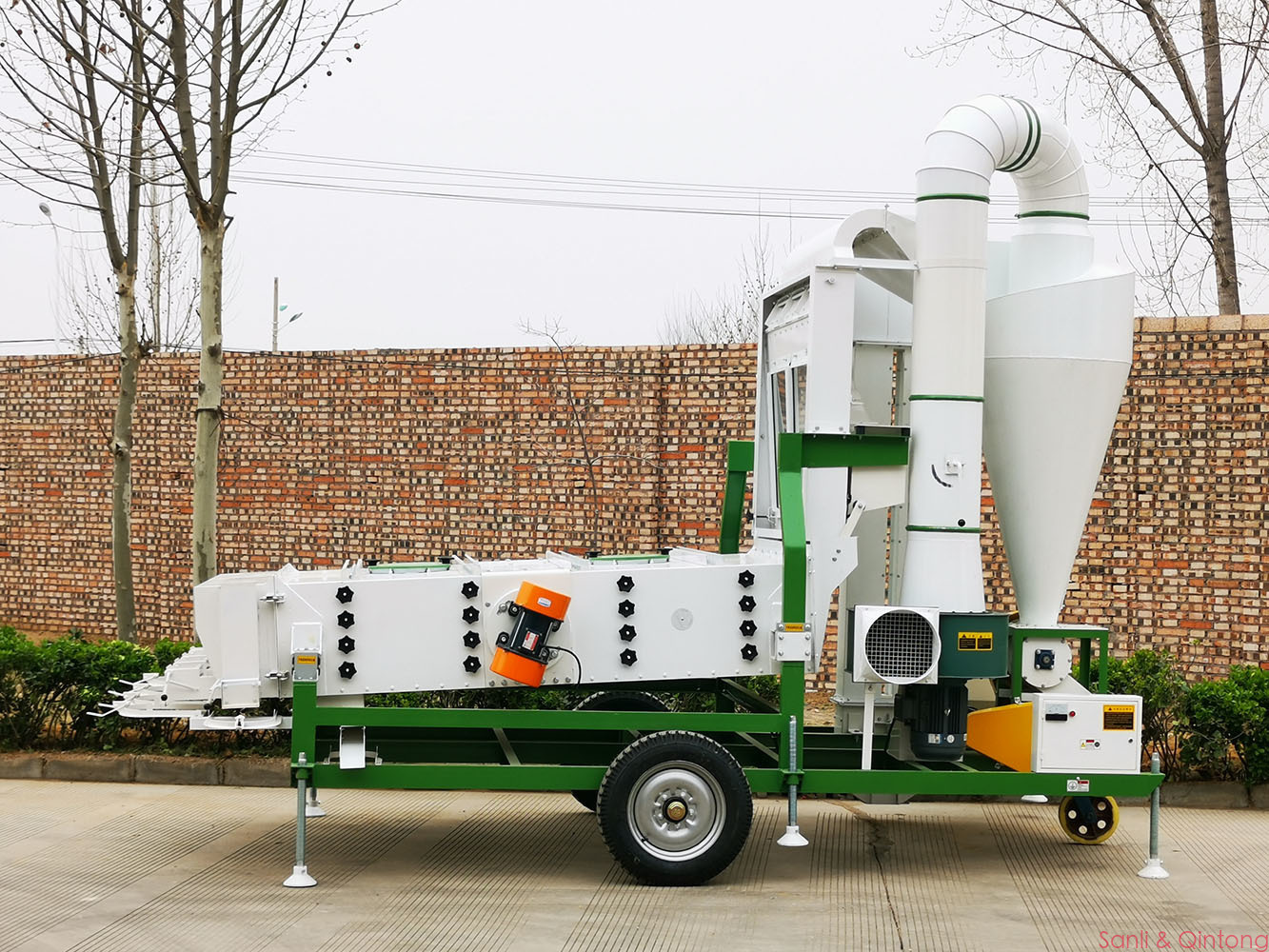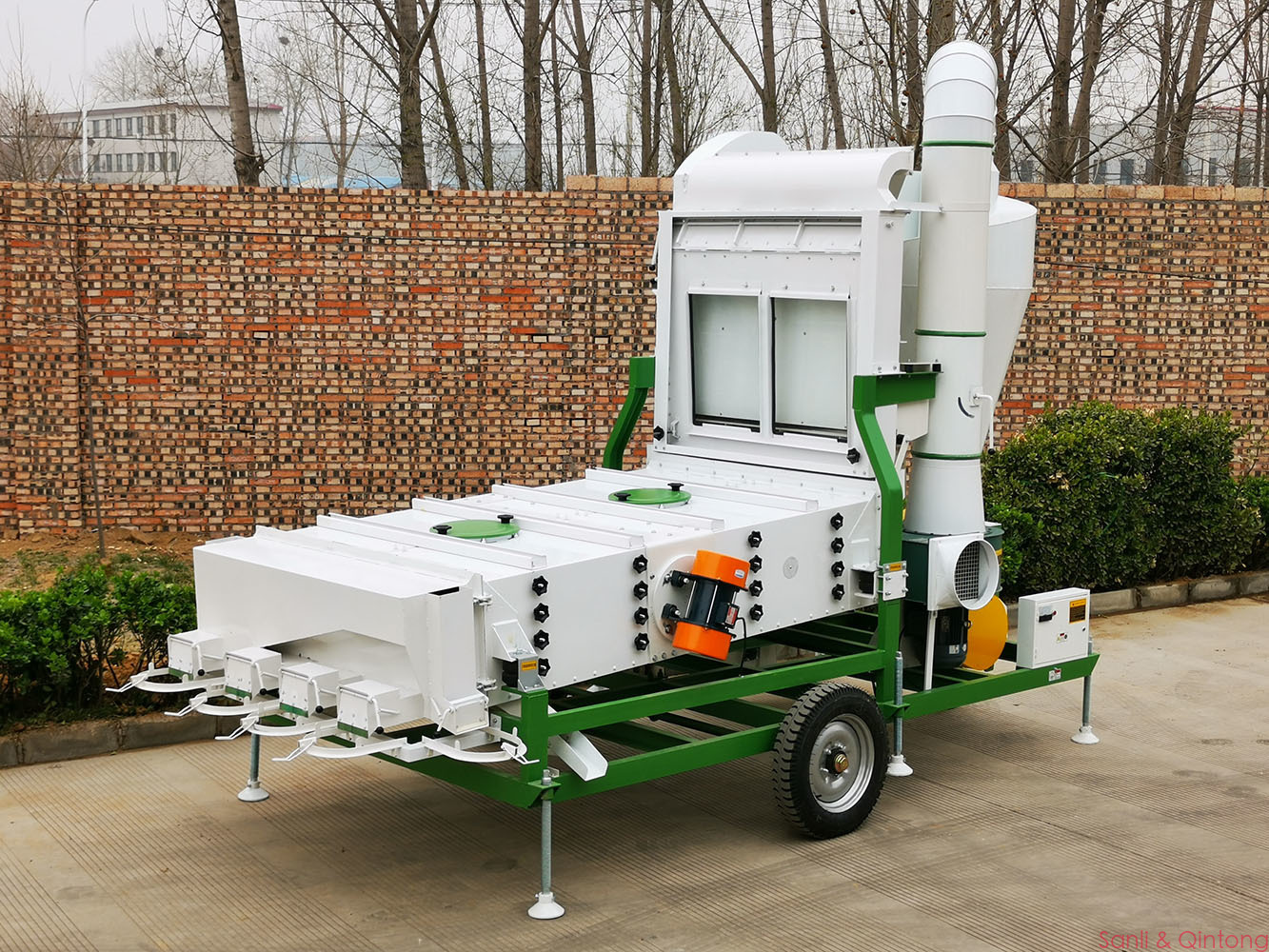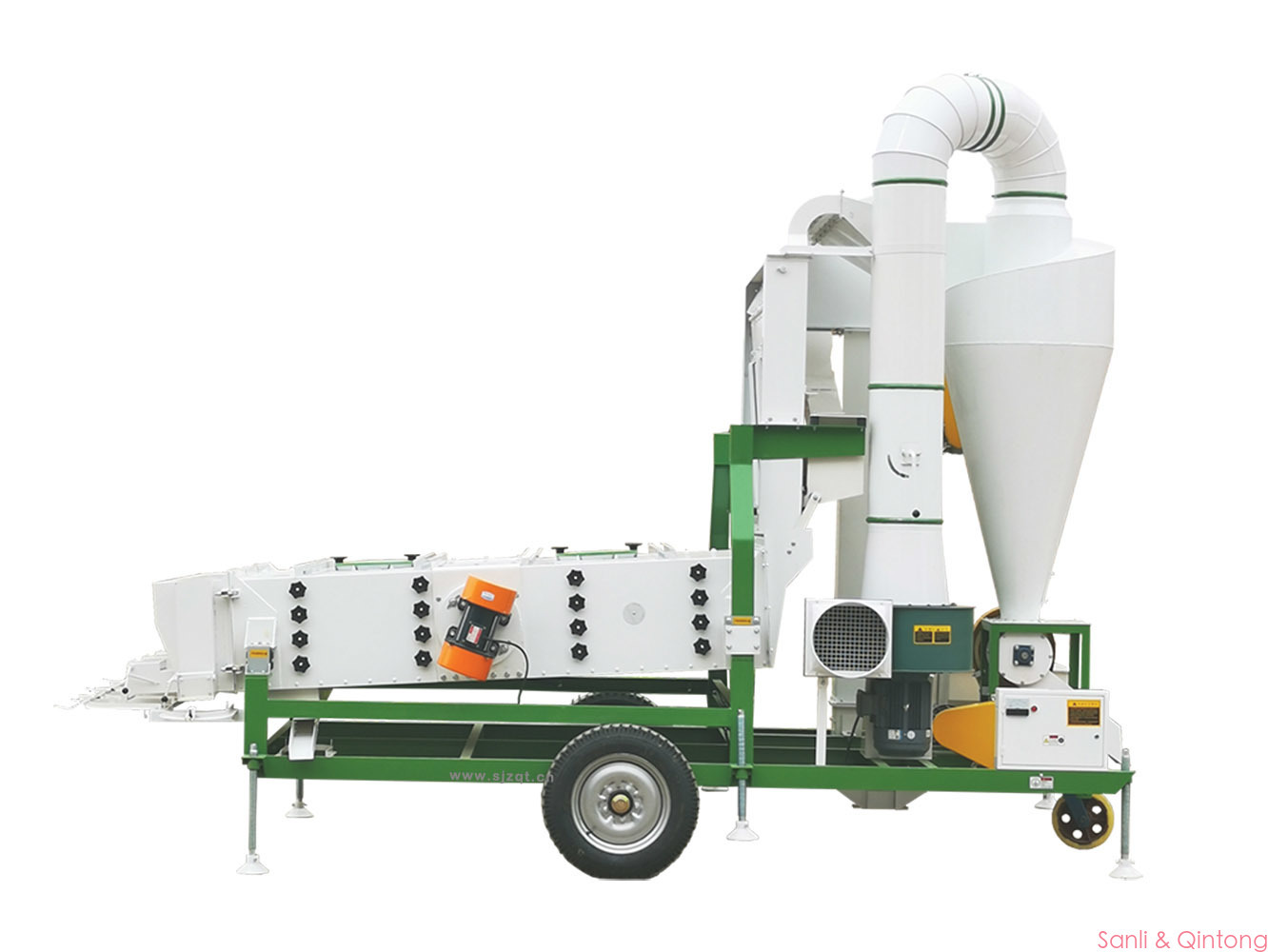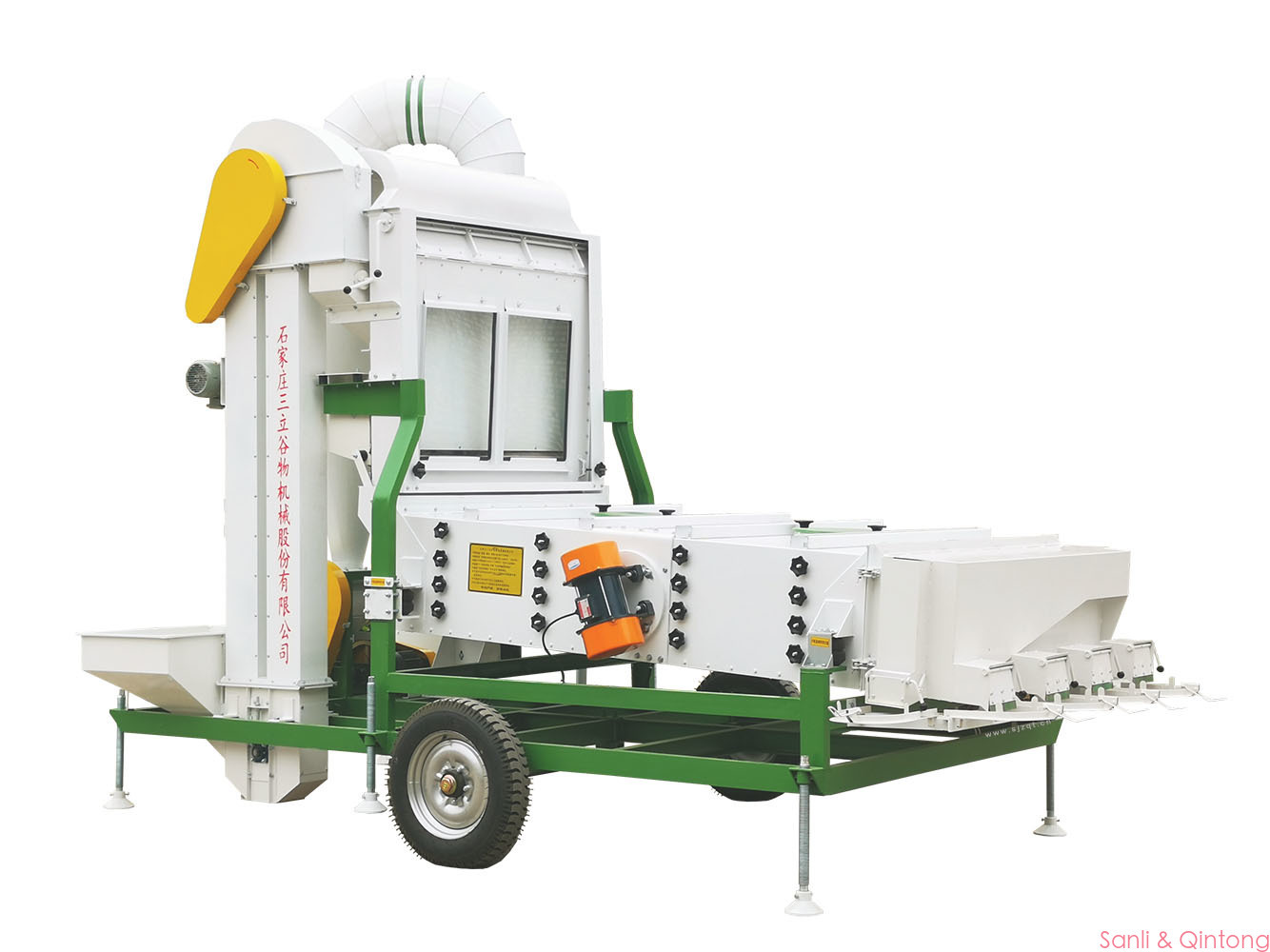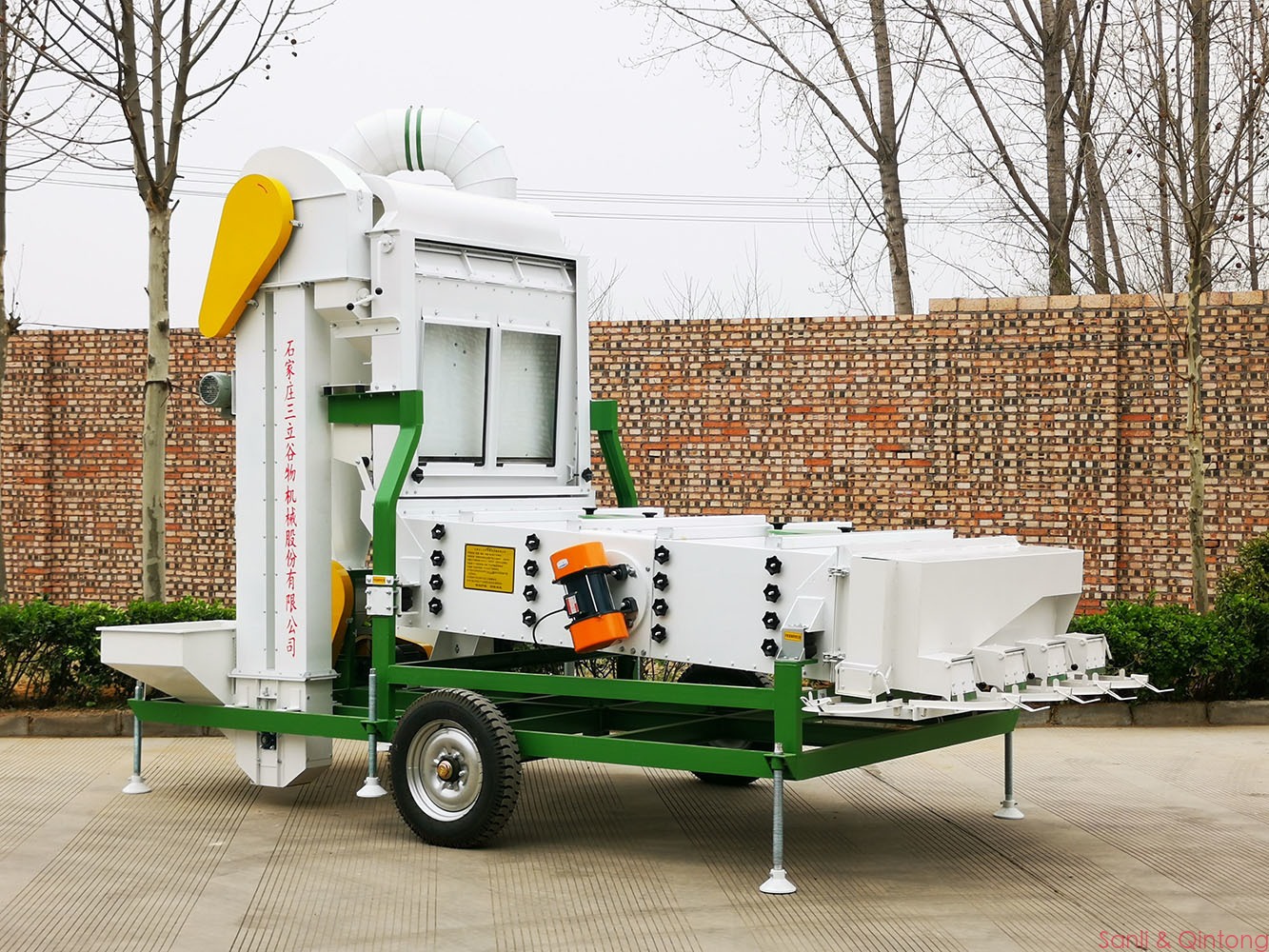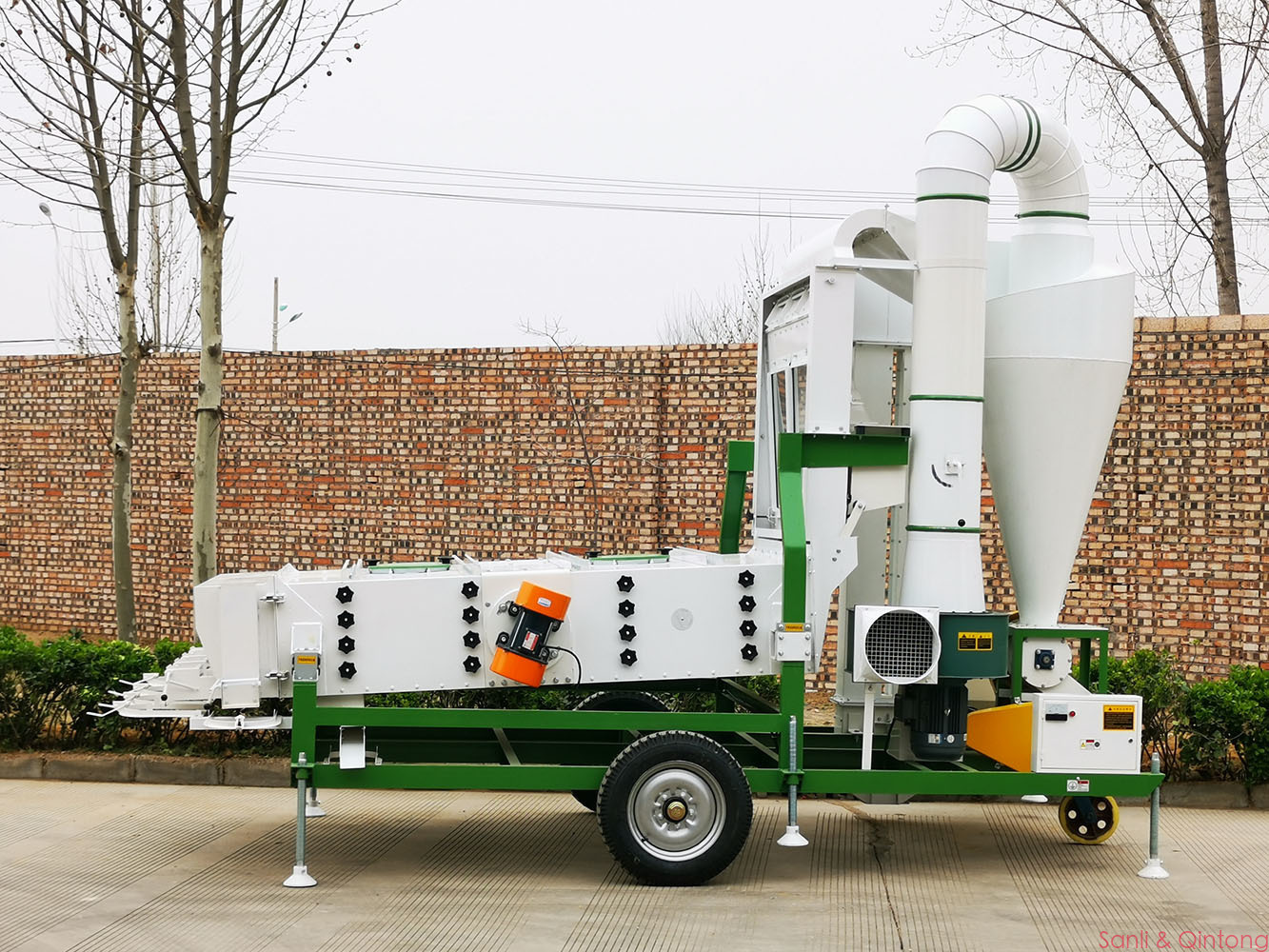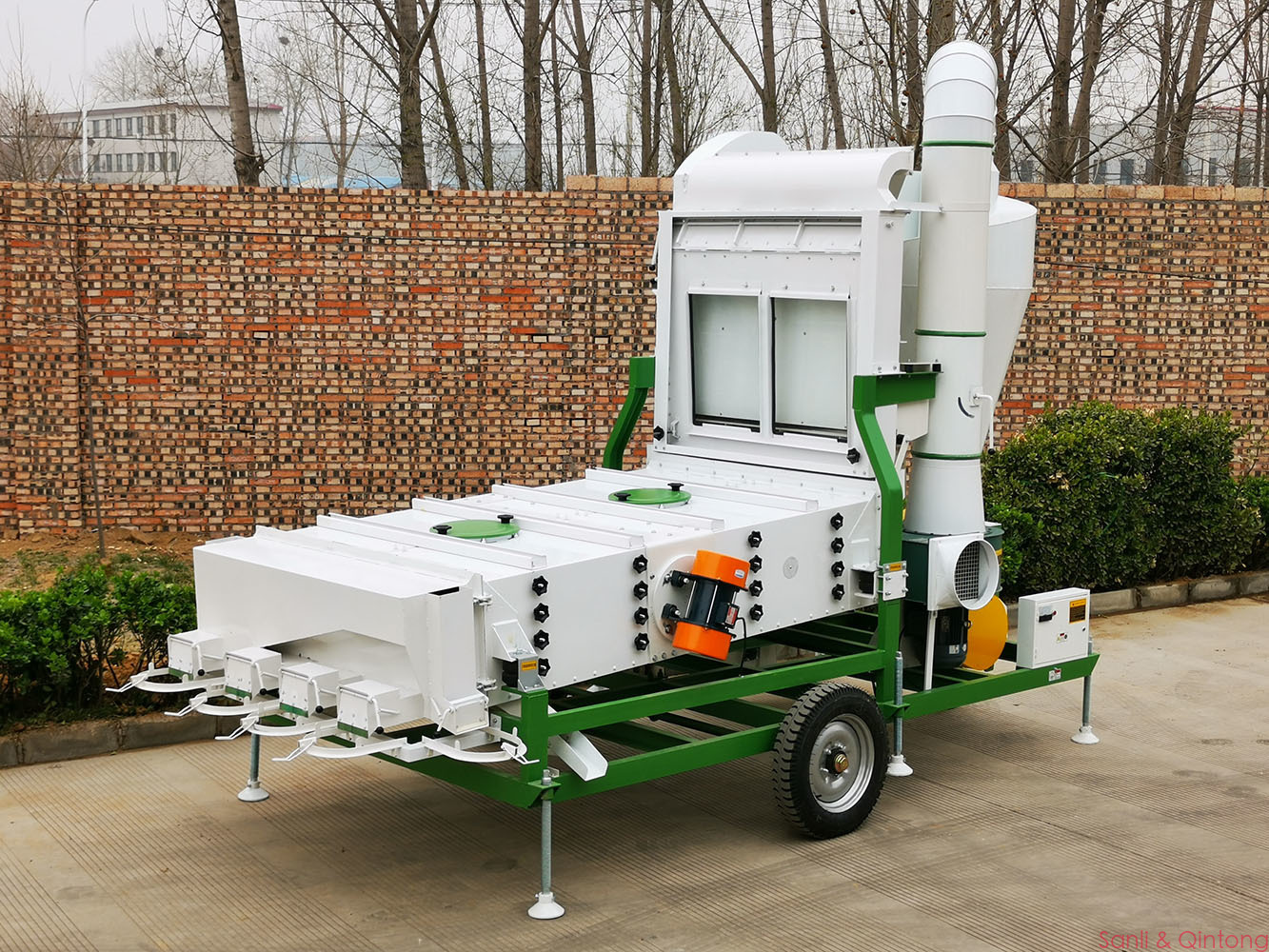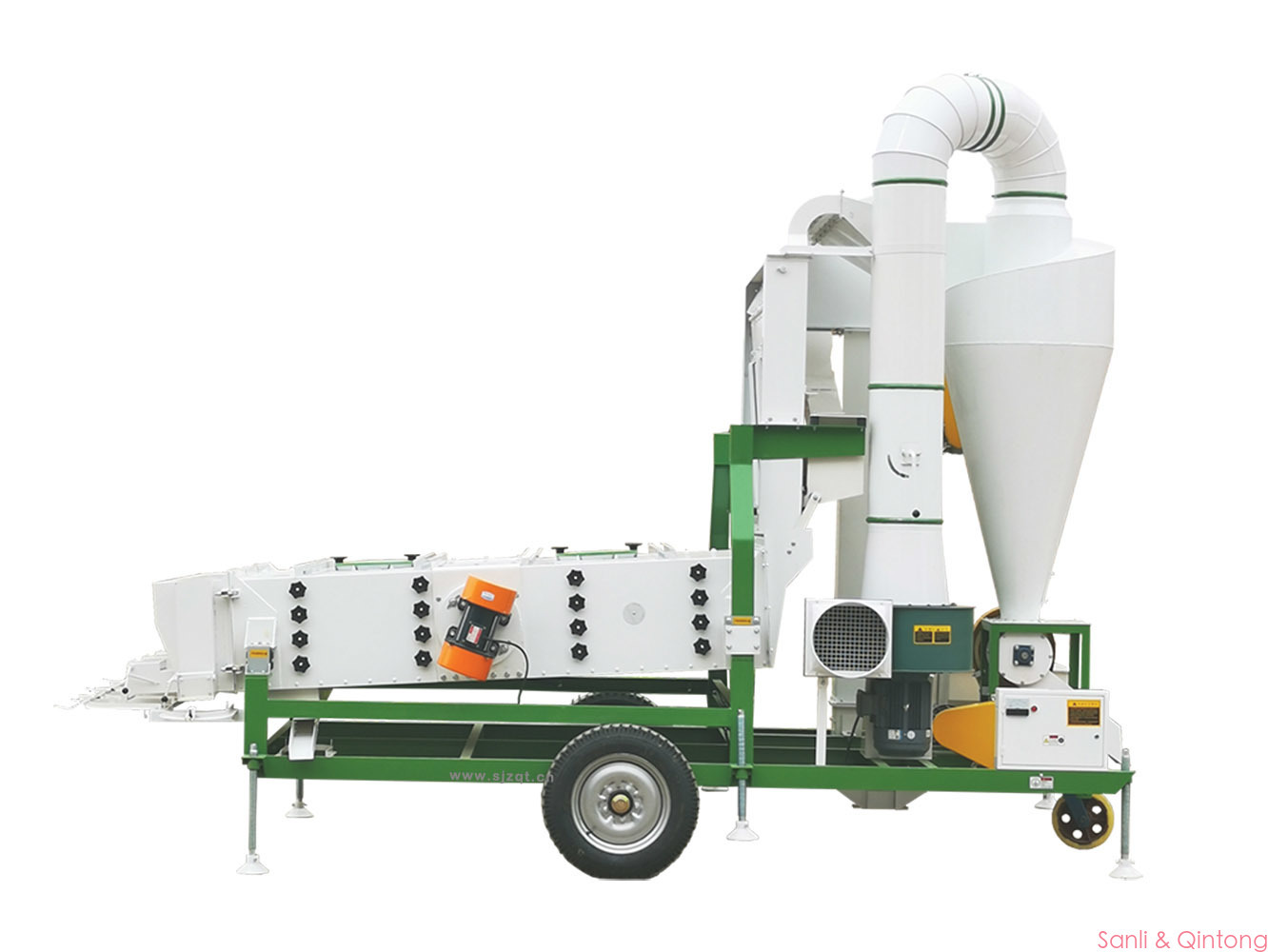 5XZC-15DXA Sesame cleaner
---
Capacity: 1500-3000 Kg/h (Base on sesame) Air screen type
sesame seed cleaner
sesame sorter
sesame seed cleaning machine
grass seed cleaning machine
chili seed cleaner
Raigrass seed cleaner
Fescue seed cleaning machine
Red clover sorter
Alfalfa seed cleaning machine
corniculate lotus cleaning machine

5XZC-15DXA Sesame cleaner
---
5XZC-15DXA Seed Air Screen Cleaner
The 5XZC-15DXA Air-screener is the largest unit of the 5XZC series range. Fitted with 4 layers sieve. With a very wide range of sieves available, this machine is very versatile and can be used for seed cleaning of almost all crops.
The machines sift based on aerodynamics and the surface speed difference of seed and impurities, adjusting the seed of the air current. As impurities are light, they are sucked into the cyclone duster, while seed is heavy and is transferred into a vibrating screen. The vibrating screen has Four layers sieves with five outlet which eject large impurities, small impurities and seed respectively, The vibration screen used for separating seeds according different sizes.
Features
1.The machine works with 4 sieve levels, The sieve are cleaned on ball frames, with rubber balls.
2.The rubber ball sifting structure complies with international standards, Sanli's patented rubber ball is highly elastic, endures and long lasting.
3.The sieves are tightly fit in the machine by a clamp-locking system for quick changing of the sieves and thorough cleaning of the machine.
4.The volume of air is variable and adjusted from minimum to maximum by a controlling handle, assuring very accurate cleaning and sorting of seeds. The blower has a very stable and reproducible output.
5.Transparent inspection windows for easy inspection and clean out.
6.The machine has a very low noise level.
7.Very easy and thorough cleaning of the machine and no contamination risk.
8.No wooden frames on the sieves where seeds can hide.
With cyclone duster, Environmentally friendly model.
Technical parameters
| | |
| --- | --- |
| Model | 5XZC-15DXA |
| Capacity(Sesame seed) | 1500-3000 Kg/h |
| Size (L×W×H) | 4640×2350×3560mm |
| Sieve size(L×W) | 2400×1500mm |
| Sieve Layers | 4 |
| Weight | 2030 Kg |
| Power supply | 380V/50Hz/3-Phase |
| Total power | 8.5 kW |
| Selection rate | ≥98% |
| Clarity | ≥97% |
| Broken rate | ≤0.2% |
| Impurities rate | ≤3% |
| Remarks | With Cyclone duster |
Note: The capacities may vary depending on seed condition, moisture content, seed varieties, types and volumes of contaminants to be separated and percentage of foreign material acceptable in the final product.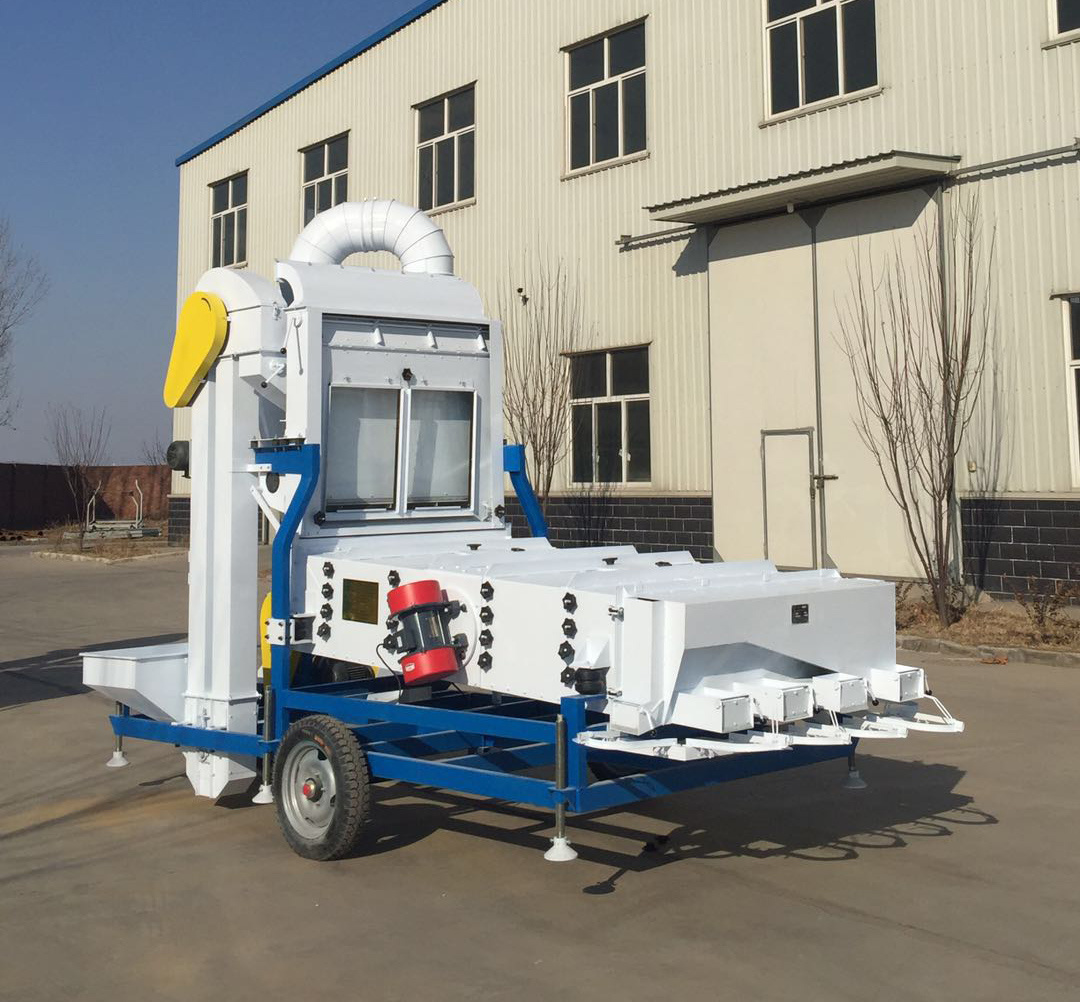 MOBILE SITE

Sanli Grain Sorting Machinery
---
Copyright © 2022 Sanli Grain Sorting Machinery Co, Ltd.