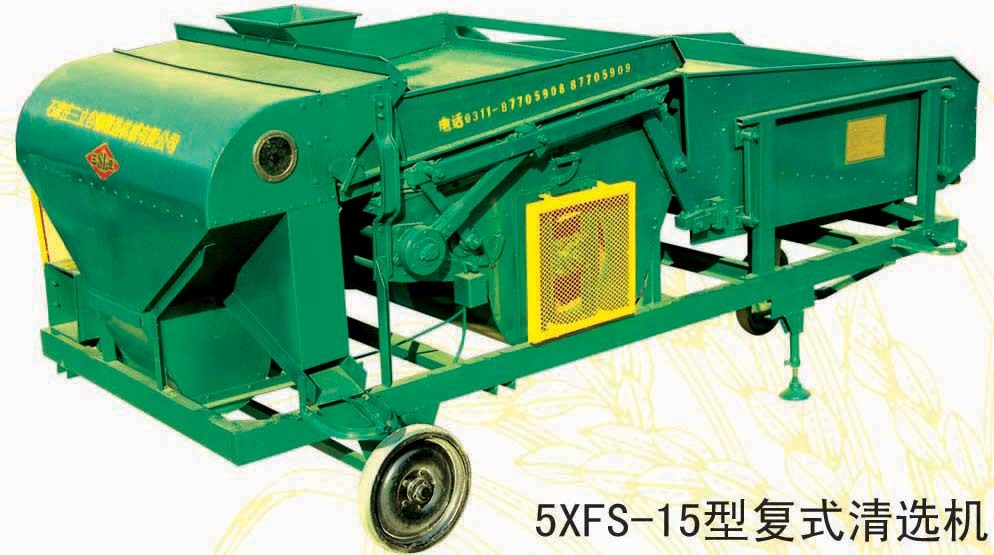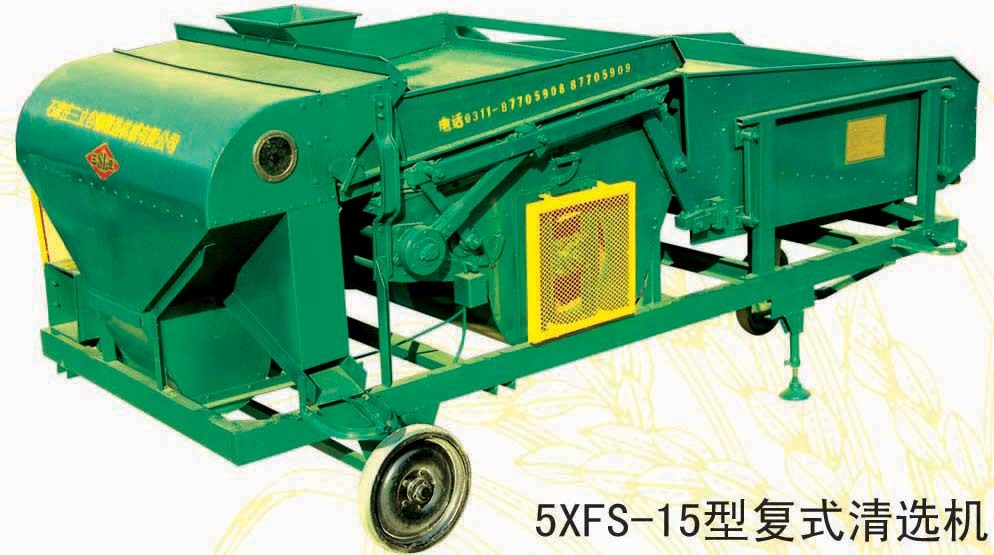 5XFS Combination selecting machine
---
Max-Capacity: 10-30T/h (Base on wheat seed)
Combination selecting machine
Pre-cleaning machine
Precleaner
seed selector

5XFS Combination selecting machine
---
5XFS Combination selecting machine
Use and application of the range
The series of 5XFS compound seed sifting machine combines with air sifting, mesh sifting and gravity separator, it is applied in wheat (barely, wheat), grain( corn, rice) , beans (soybean, green bean, red bean, kidney bean, horse bean), sunflower seed (sunflower seed, watermelon seed, pumpkin seed), vegetable seed (shallot seed, cabbage seed, radish seed), rapeseed, grass seed, peanut etc, it will achieve commodities seed once sifting. when the moisture content of seed rate is higher than storage seed after harvester, this machine can also as preprocessing before drying seed.
●Energy-efficient performance
This machine is high production rate and can three or four times than other machine, but energy consumption is one third of other machine, price is one half of other machine.
●Good performance and effect
This machine can not only used as pre-cleaning machine , but also can used as finally selecting machine, at the same time, it can do together, all kind of grain seed which is impurities in 3%-60%, and moisture content 13.5-34%, can up to commodity and seed grade after once cleaning, it is ideal machine.
●One machine more functions
This machine can pre-cleaning and selecting wheat, beans, grain melon seed, vegetable seed, grass seed, etc.
●Safety and reliable, good work environment
This machine is safety and reliable, there is not only safety guard, but also run reliable and stable. This machine also install dust-collecting device to avoid polluting environment, in order to insure safety of worker.
Technical specification
TYPE

PRODUCTIVITY(T/H)

DIMENSIONS(MM)

WEIGHT(Kg)

MOTOR POWER

Pre-cleaning

Selecting

L

W

H

kW

5XFS-10

10

4

3515

1607

1520

1200

3

5XFS-15

15

5

4515

1907

1820

1700

4

Note: the productivity in the form is under the condition of impurities ≤3%, moisture≤13.5% for processing wheat and black wheat.

If it is used for processing corn, the productivity will be 90%, for bean 80%,for barley 70%, for paddy seed 60%, for peanut 50%, for rapeseed 40%, for watermelon seed 30%, for sunflower seed 20%, for grass seed 10%

If wheat is more humidity, and more impurities, you can calculate the productivity as following,

Moisture is between 13.5% and 17%, productivity will be 65%-70%, moisture is between 17%-21%,the capacity will be 55%-60%, if moisture exceed 21%, the highest productivity will be 50%.
MOBILE SITE

Sanli Grain Sorting Machinery
---
Copyright © 2022 Sanli Grain Sorting Machinery Co, Ltd.